I just came across this short documentary from US National Public Radio about issues concerning food aid and its effects on the local economy.
It's an intersting piece but it left me thinking: what's the decision-making role of Haitians in the reconstruction of their country? The US Military is rebuilding the port, the World Food Programme is responsible for decisions concerning food aid. Is it uniquely foreigners who are taking action to get the country back on its feet? Again forgotten are the daily efforts of the Haitian people for daily life not simply to return to normal, but to build a more country more inclusive and equal than before.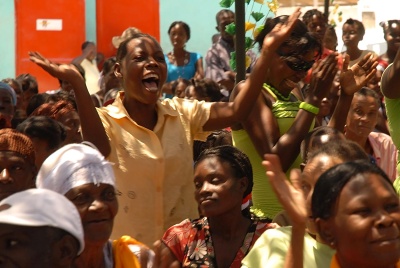 It's another missed opportunity by the media to show that the Haitians are not passive in the wake of the tragedy that befell their country. On the contrary, they seek ways to show their solidarity with their fellow citizens. The organisation I work for bears witness to this, with numerous young people from the community in the Grand Ravine area in which the run projects offering their time to volunteer to support the more disadvantaged members of their community. Their local knowledge has been particularly vital in ensuring that the most isolated and excluded people in the neighbourhood are aware of programmes such as the "cash for work" initiative.
So a plea to the media: focus on the large-scale efforts undertaken by the UN, US Military and the like, but also put the spotlight on the more conspicuous, yet in many ways more far-reaching, undertakings of Haitians to ensure none of their citizens remain left behind.
(Photo: ATD Fourth World)